Time for the final pre-holiday edition of 10 things:
Curry has warped the perception of what is normal. For Curry, this is an easy shot:
For good NBA point guards — good ones — this is not an easy shot. Freeze the action as the ball leaves Curry's hands: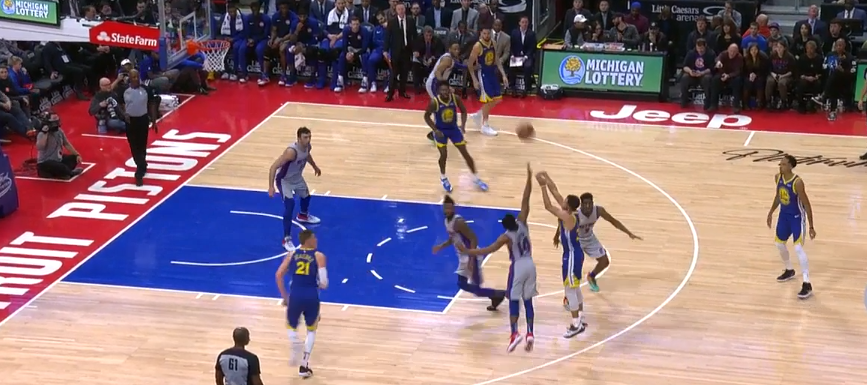 Defenders are infringing on his personal space from three directions. Ish Smith can almost smack Curry in the face. Within a tiny window of time and space, Curry catches the ball, angles his body toward the rim, and rises all in one motion.
Amid Curry's audacious off-the-dribble bombs, this kind of catch-and-shoot dagger barely registers. It should.
The best way to appreciate Curry's uniqueness is to watch other sweet-shooting point guards run the pick-and-roll. Try it with, say, Jamal Murray. He'll scoot around a pick with some breathing room behind and in front of him, and then … not shoot. You crinkle your eyes and say to yourself: Let it fly! It's almost 2019! Analytics and such!
But then you freeze the screen, and it dawns on you: He really has no space. Murray's defender is only a few inches behind, close enough to touch Murray's hip or reach into his line of sight. The guy guarding the screener is straddling the 3-point line.
Murray is in a phone booth. Even a good, ballsy shooter barely contemplates attempting that shot. Only a few guys — Curry, Damian Lillard, Kemba Walker, Trae Young someday — dare launch them with any regularity. Only one makes them at anything approaching a 40 percent clip.
Curry pioneered the relocation 3-pointer, and he is hunting it with a new predatory speed this season.
Curry doesn't pause after passing to suss out options. He is moving into the void along the arc when the ball is still on his fingertips, and he sprints there. By the time Danny Green and Kyle Lowry understand the horror Curry is about to unleash, it's too late. Curry turns every defender into Agent Kujan the moment he realizes he has just let Keyser Soze walk out the door.
The Curry long-distance give-and-go has been in every scouting report for years. That it still works is a tribute to its inventiveness. Even now, it cuts against the game's usual patterns. Defenders are hardwired to follow the ball.
And just when they feel like they've mastered Curry's rhythms, he adds a new twist — more all-out, straight-line sprints. Gird yourself for that, and Curry will go back to pausing, holding you in an addled limbo, and then darting in some unexpected direction.
Curry is juking his way into a career-high 6.3 catch-and-shoot 3s per game, compared to 4.2 pull-ups. Two seasons ago, that ratio was about even. In his first MVP campaign, it was reversed.
Some of that evolution is the result of playing alongside Kevin Durant. (Related: Golden State has already run 36 pick-and-rolls in which Curry screens for Durant after busting that out just 42 times last season, per Second Spectrum. Curry typically sprays out into 3-point range on those plays. Watch out.)
But some of it is Curry, never satisfied, always pushing the boundaries of efficiency. If not for 11 missed games, he might be the MVP favorite.
The Warriors are struggling by their standards. They can find their usual flow for only small stints. But several rotation players have missed a significant number of games, and their absences have not always overlapped. The vaunted Death Lineup has logged just 17 minutes. Complacency is inevitable. Draymond Green has forgotten how to shoot.
They will soon rediscover their joyful verve, and reassert themselves as huge favorites. Meanwhile, Curry is a constant.
2. Figuring out DeAndre Jordan turning into a statue
Jordan is emerging as the ultimate stats-versus-eye-test guy this season. He ranks third among ESPN's defensive real plus-minus, behind only Robert Glovington and Marc Gasol. A lot of proprietary team analytics paint him as average or slightly above average.
Meanwhile, I see a lot of this:
The Mavs have clearly told Jordan to plant himself near the rim, dissuade enemies, and rebound everything. Jordan is on pace to lead the league in individual defensive rebounding rate for the second straight year; the Mavs rank fourth as a team. He rarely fouls.
Only seven teams have allowed a lower share of opponent shots at the rim than Dallas, per Cleaning The Glass. Perimeter defenders stay home on shooters instead of helping on drives, knowing Jordan is there.
But, my man, could you bother, like, moving and jumping now and then?
Jordan challenges only four shots per game at the basket, a remarkably low number considering he lives in the block-charge circle. Opponents shoot at the rim at the same rate against Dallas regardless of whether Jordan is on the floor. The Mavs' defense is way stingier when he is on the bench, even though opponents are shooting better from deep in those minutes.
There also has to be a spiritual cost to witnessing Jordan's temporary calcification. Trust can erode when teammates funnel their guys toward Jordan, only to watch him chill with his hands at his sides.
Jordan plays like a man saving his jumps for offense, and counting stats. The Mavs have no stylistic flexibility with him on the floor.
And yet: Some advanced numbers are saying another thing. The Mavs still defend at a borderline top-10-level with Jordan on the floor. The Mavs' bench might appear stingier than it really is; they get to defend backups.
There must be more value than the eye test suggests in Jordan's brand of strategic do-nothingness. Leap at too many shots, and you expose the offensive glass and quick interior passes that lead to even easier dunks. But Jordan is erring too far in the direction of nothingness. You can't convince me he's as good as those numbers suggest.
3. The Lauri and Wendell show
It has been a rough month for Chicago fans. The Bulls are a mutinous laughingstock. They have a freaking leadership council, and they are trying to pass it off as a serious thing. Can it craft team legislation? Can someone filibuster? Does it have a cloture rule in case someone filibusters?
Their young core was healthy at the same time for about five seconds before Zach LaVine hurt his ankle. They are playing in mud under Jim Boylen, and jacking a disturbing number of midrangers.
Their fans need a pick-me-up. They need these flashes where Lauri Markkanen and Wendell Carter Jr. remind you that, yes, something interesting is happening here:
Get used to that: Markkanen and Carter working a mean double-drag, with Carter slicing to the rim and Markkanen popping outside. Those are their core skills: Carter the inside man, Markkanen the sniper. Markkanen has the makings of a slick high-low, inside-out passer.
But their multidimensionality is what could make them special — and unpredictable.
Carter will extend his range. He's already a creative passer from the elbows. Markkanen can slice to the rim and bully smaller guys on switches.
Carter will grow into a nasty defender across almost every possession. Markkanen has longer to go on that end, but he's smart, with a nasty streak. Bobby Portis (also injured — of course) can play alongside either, if he's long for Chicago.
Yeah, Markkanen is shooting just 38 percent, and barely shot at all in Chicago's loss to the Nets Wednesday. Opponents are mauling the Bulls when Markkanen and Carter share the floor.
Ignore all that. Markkanen is finding his legs. The team around them mostly stinks. The Bulls have the skeleton of a really good, ultramodern front line.
John Wall's occasional indifference has come to symbolize Washington's sullen listlessness, but on bad nights, Morris works just as well.
After a hot start as sixth man, Morris has reverted to his worst form as the Wiz have lost six of seven. In Phoenix, Morris had the vague outlines of a jack-of-all-trades — a power forward who could post up, shoot 3s, make plays for others, and switch across all five positions.
Morris hasn't made big strides in any of those areas. When Washington asks Morris to blitz pick-and-rolls, he too often lurches at half-speed:
Teams are plundering the Wiz when Morris shows on the pick-and-roll, per Second Spectrum. He's a disinterested rebounder, perhaps the main culprit behind Washington being on pace for the worst defensive rebounding rate since 2015. Voracious glass-eaters know they can outwork Morris:
Morris' defensive rebounding rate is 5 percentage points lower than we would expect based on his size and his position upon the release of all shot attempts, the 16th-worst figure among 193 defenders who have been on the floor for at least 500 rebounding chances, per Second Spectrum.
Morris is unplayable at center, which is a problem considering the state of Washington's actual centers. Some bigs never develop into high-volume 3-point shooters. Playing next to two star guards quashed Morris's nascent passing. His regression everywhere else is more disappointing.
Isaac is raw and unsteady on offense, but in every game, you see glimpses of the all-court wrecker he is going to be on the other end (assuming he's not made of glass):
Dude is everywhere. The power of elite length and speed lies in the ability to help more without leaving anyone open — to in effect be in two places at once. Isaac gets away with things that are off-limits to most players — including helping off shooters in the near corner:
The awkward, supersized Aaron Gordon-Isaac-Nikola Vucevic trio has slumped on offense over the last month; Orlando has scored just 101.8 points per 100 possessions with those three on the floor, barely above Chicago's league-worst mark. That alignment may be unworkable in the long run. We still don't really know what Gordon is on offense.
But Orlando is smothering opposing offenses with that trio on the floor, and Isaac is a big part of that. He looks comfortable defending both forward positions in his weirdo role on this weirdo team.
6. The Celtics, masters of the X-out
Ho-hum: Boston is again holding opponents to a minuscule mark from deep — 32.8 percent, fourth lowest — despite allowing more attempts than Brad Stevens would like. Boston has been defying randomness for a half-decade now. It's not luck.
One thing to watch: the precision with which they "X-out" on the weak side, coach lingo for what Gordon Hayward and Marcus Morris pull here.
The margin for error there is zero. You have to set up early, rotate in sync, and track in real time who you should (and shouldn't) run off the arc.
Hayward is the low man, and so Morris waves him into the paint to help on Alex Len. Hayward arrives before Len crosses the foul line, confident Morris will toggle onto his guy in the corner. Hayward in turn zips up to Morris' original assignment. That is some delicious liquid defense.
It has become vogue to say no defense can cover everything — the rim, 3s, midrangers, offensive boards. That is mostly correct. Boston doesn't try to cover everything all the time. But they can do it in frenzied stretches, and shapeshift between defensive schemes — handy tools in adjusting from one postseason series to the next.
7. Die, points per game allowed
I caught you, Pacers broadcast, using points per game to bill last Wednesday's Milwaukee-Indiana game as a showdown between the league's best offense (Bucks) and defense (Pacers).
Nope. Oklahoma City allows the fewest points per possession, and it's not particularly close when you exclude garbage time. They sport the league's best defense. Indiana allows the fewest points per game in part because Nate McMillan prefers a slow pace.
Also: Indiana ranks second in points allowed per possession! You don't need to yank hoops discourse back into the 1990s in framing Bucks-Pacers as a battle between Milwaukee's dunks-and-3s machine and Indiana's stingy defense!
Every superstar needs a break-in-case-of-emergency shot — a shot you don't really want to take, but have to because it is your burden to create something from nothing. For Jokic, his running floater has become that last-ditch shot.
It is more useful with Mason Plumlee starting in Paul Millsap's place; Jokic has a harder time lumbering to the rim with Plumlee clogging the paint:
He can launch it lefty or righty, or even in modified two-handed jump shot form. He shoots it from odd angles and release points — off the wrong foot, or on the way down.
Jokic and Jamal Murray deserve huge credit for lugging the Nuggets to four straight wins with three starters — Will Barton, Gary Harris and Millsap — injured. Denver's bench guys have been fantastic, but they would not hold up this well against opposing starters without Jokic and Murray as fulcrums. Those two might have the league's deadliest give-and-go chemistry.
Since Millsap's injury, each has worked alone in lineups featuring no other opening-day starter. Those groups have outscored opponents.
Jokic isn't going to win MVP. He's not among the league's seven or eight best players, though he's close to cracking that group. But the NBA recognizes the top-five vote-getters. When Hall of Fame voters — whoever the hell they are — and historians examine how good a player really was among his peers, top-five MVP finishes serve as proof of rare superstardom.
As long as Denver is near the top of the West, Jokic deserves a place in that conversation.
9. The Cavs: a slog
It's not really anyone's fault, but, man, the Cavs' offense is just awful to watch right now. There is just so much dribbling, and so little purpose or structure.
It takes Collin Sexton half the shot clock to get the Cavaliers into their first action. Larry Nance Jr. is constantly yelling at people to cut. This is not really a criticism as much as it is an unceasing reality: Most rookie point guards are unqualified to orchestrate NBA offenses.
Sexton has the assist rate — 2.5 per game — of an average starting center. He's young, and it's hard to make plays when defenders duck 10 feet under every pick. Still: His passing instincts are wanting.
The Cavs rank 25th in passes per game. They are 28th in pace even though they are starting a non-shooting bulldog point guard who needs to play in transition. They are neck-and-neck with the Warriors for most pull-up jumpers, and most of Cleveland's are long 2s. They meander until the shot clock demands one midrange fiend — Sexton, Rodney Hood, Alec Burks, Jordan Clarkson — shrug into a long 2. There is an alarming amount of Nance posting up going on. (Nance is finally taking and making 3s, at least! Jaron Blossomgame has been kinda fun. Cedi Osman tries hard!)
A Clarkson one-on-everyone drive is almost a relief.
Rising from a superstar's ashes is hard. You don't always get to plan for his departure, or handpick the first batch of young guys who soak up his minutes. Cleveland's two best players — Tristan Thompson and Kevin Love — are injured. JR Smith is hoverboarding into the sunset.
But it doesn't feel like anyone other than Sexton and maaaaaaayyyybe Osman and David Nwaba will be a part of the long-term, post-LeBron Cavaliers. Beyond that, they have no identity. It might take years. The red-hot Suns — on four-game win streak! — are only now coalescing around something that might be the vague outline of a core belief system: play a point guard (to be acquired, naturally), Devin Booker and two wings around a fast-twitch center (Deandre Ayton surging as a starter, Richaun Holmes doing great work as his backup) in Igor Kokoskov's system.
Think of how many high draft picks and coaches it took Phoenix to arrive at this fragile embryonic stage. Cleveland is so far away. In the meantime, there is nothing worse than being bad and boring.
10. Russ, rocking the baby
This is the perfect taunt. It is mean. It is situationally specific, to be used only when Westbrook scores in the post over a smaller human (the "baby"). We don't need signature taunts after ever basket. There are too many baskets. Every touchdown in the NFL is worth an elaborate celebration because they are relatively rare, and people risk permanent brain injury to score them.
Westbrook's baby-rocking is targeted at a single victim, which raises the possibility that it could backfire spectacularly onto Westbrook — that he might motivate the baby to humiliate him. There is more risk involved than in some generic 3-pointer celebration. Keep rocking, Russ!